Join Us For Our Annual Spring Fling!
Friday, March 27th 10am - 7pm
Saturday, March 28th 9am - 6pm
Sunday, March 29th 10am - 5pm
Everything in the store is up to 20% OFF!
How to Attract More Birds with Seed Cylinders
Make March Less of a Stress for Birds
Simply put, March can be a very difficult month for your birds.
Early in the month, birds' natural food supply is at its lowest point of the year. Insect populations are still low, and the few remaining wild fruits, berries, seeds and nuts are either hidden or undesirable. Unpredictable weather doesn't make life any easier. Sunny, warm, spring-like days can turn into cold, damp conditions that challenge birds' survival skills. And to make matters worse, this is all happening as some birds prepare for nesting season.
However, these various challenges provide you with one of the best opportunities of the year to help your birds.
Providing Food Makes a Difference
Offer your birds lots of high-energy foods, such as peanuts and suet. Loaded with fat and protein, these are beneficial substitutes for the scarce insects many birds would eat if they could find them.
Counteract the lack of natural insects by offering protein-rich mealworms. They are eaten by numerous species of birds and can be a lifesaver during a sudden cold snap.
Nesting Birds Need Help, Too
Birds build open-cup shaped nests in trees or on the ground, or they nest in cavities (or holes) in trees. By placing nesting materials and installing bird houses around your backyard, you can entice birds, such as bluebirds, wrens, chickadees, titmice, nuthatches, woodpeckers, Purple Martins, swallows, owls and Wood Ducks. Bird houses can make your birds' lives a little easier. After all, they have already expended a lot of energy establishing territories, courting and looking for scarce food.
If you are using a functional bird house to provide your birds a home, be sure it meets these six requirements:
Designed for the species, according to bird's size and nesting requirements
Ventilation holes to provide release for heat build-up
Easily cleaned
Easily mounted or hung
Durable to withstand several seasons of use
Drainage holes in the bottom of the house
WBU Tidy Cylinder Feeder
Featuring a tray that reduces the amount of uneaten seed debris that falls to the ground, our Tidy Cylinder Feeder makes offering seed cylinders easy. Simply drop one of our exclusive seed cylinders (2 lbs.), No-melt Dough Cylinders or up to three Stackables® into the feeder, hang it, and watch your birds enjoy.

Our exclusively-formulated Seed Cylinders, No-melt Suet Cylinders and Stackables keep birds at the feeders longer because they have to work to remove seeds. So instead of birds swooping in, grabbing a bite and taking off, Seed Cylinders give you a few extra moments of enjoyment.


Keep Woodpeckers Off Your House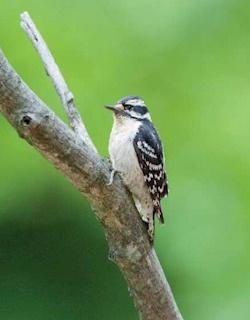 Generally, woodpeckers peck at houses for one of three reasons – to attract a mate or proclaim territory, to seek food (insects in the wood), or to try to create a nest in the side of a building. Try the following options.
Scaring Woodpeckers
Scaring woodpeckers may be successful if started promptly. Scaring the woodpeckers from the house or area relies upon the bird's response to danger or unpleasant experiences. Hang Bird Scare Flash Tape in 1 ft. strips over the area being pecked. These mylar strips will shimmer and make a light snapping sound in the wind to scare woodpeckers from the immediate vicinity.
Light pie plates and metal can lids can be suspended on a string. One end of the string can be near a convenient window or door where the line can be jerked whenever the bird appears.
Attach string to the ends of aluminum foil strips cut two to three inches in width and two to three feet in length and hang from damaged or tapping sites.
Pinwheels with reflective vanes may be attached at tapping or damaged sites. These must rotate in order to be a deterrent.
Models or silhouettes of snakes, owls or hawks may be the least effective unless they are hung to move in the breeze and/or in conjunction with playing recorded calls of birds of prey.
Excluding Woodpeckers
Cover the site with plastic or nylon netting or hardware cloth. Permanent installation of hardware cloth or other screening may be the best solution when woodpeckers make repeated attempts over several years to make holes or nests.
Metallic or wooded surfaces used for drumming may be wrapped or covered with cloth or foam. An alternative tapping site or surface such as a wooden box or metal cylinder hung in a less annoying location may be considered.
Placing a woodpecker house over the area if the bird is interested in nesting may encourage the bird to stop creating another hole.