The Right Seed for Summer
Though the temperature is rising, our seed prices are falling. Shop now and save on the best Seed and WBU Seed Blends. Our seed blends:
are chosen by your local expert.
formulated to care for your birds.
contain no cereal fillers - just seeds your birds love.
All Seed, Suet & Cylinders on Sale July 1st - 12th!
*Valid only at the 6654 Sawmill Road location. Not valid with other discounts or previous purchases. Offer expires 7/12/15.
How to Attract More Birds with Seed Cylinders
I have a bald bird at my feeders - is something wrong?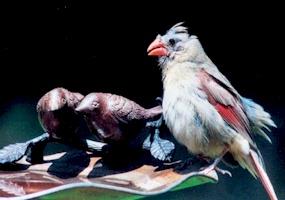 "Bald-headed birds" are often seen in late summer. Usually it is Blue Jays, Northern Cardinals or Common Grackles with a complete lack of feathers on their heads. While the rest of the bird's body looks normal, a completely bald bird certainly raises curiosity.
The most likely explanation for the baldness is an abnormal replacement of all the head feathers (molting) at the same time. Others may include environmental or nutritional factors, feather mites or lice.
There is also some anecdotal evidence that, in some cases, a simultaneous molt of all the head feathers may just be a normal occurrence for a very small percentage of individual birds.
Whatever the cause, bird banding studies show most birds recover from their period of baldness within a few weeks, and that birds recaptured in succeeding years often show no re-occurrence of this unusual molting behavior.