Tired of Cleaning Up After Your Birds?
Our No Mess Blend is 100% edible, leaving no shells behind to clean up! Without a shell the seeds cannot sprout, which means no more weeding under your feeder in the summer!
No Mess is perfect for feeders in landscaped areas.
Hummingbirds Are Back!
We have received multiple reports of hummingbird sightings by customers in the Columbus area. If you haven't already, be sure to get your hummingbird feeder out to catch those early arrivals!

Fun Spring Activities
Experience the Great Outdoors
Photo Scavenger Hunt (PDF)
Strike a pose! Snap a few photos of cool things you commonly see outside in nature.
Build A Bird Feeder (PDF)
Build it and they will come. Download these instructions to create your own bird feeder from common items you find around the home.
WBU & Audubon Adventures Activities (PDF)
Spend some time outside in nature with this activities handout.
Coloring Scavenger Hunt (PDF)
For your little ones. Spark their creativity by having them draw pictures of colorful things they would find in nature.


Remember, bring any of these completed activities to your local participating WBU store and receive a FREE sample bag of bird seed!
It's a Sweet Month to Feed the Birds
Spring migra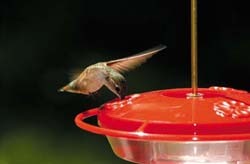 tion is underway, and a countless number of birds are heading north to their nesting territories.Fortunately, two of the hobby's favorite birds, hummingbirds and orioles, can be immediately attracted to feeders with nectar (and fruit and jelly for orioles), making it a sweet month to feed the birds.Only 5% of all avian families include nectar as an important part of their diet, making hummingbirds and orioles part of a very exclusive dining club.It only takes between 30 to 50 minutes for nectar to be digested, so hummingbirds must eat a lot and often. In fact, hummingbirds eat about every ten minutes and can drink up to twice their body weight in nectar every day.However, no bird's diet is made up entirely of nectar. Nectar-eaters must also include other foods, usually insects, to obtain essential amino acids and other nutrients.When orioles are not feeding on nectar or fruit, they forage for spiders, caterpillars and other insects. Hummingbirds spend more than 25% of their time foraging for arthropods, such as spiders.You can attract hummingbirds and orioles to your feeders using slightly varying methods. Hummingbirds enjoy a nectar solution of four parts water to one part sugar. Orioles prefer a mix of six parts water to one part sugar, plus solid foods, like fresh orange slices, grape jelly and mealworms.
Watch Northern Migrations Online
Visit www.learner.org/jnorth/humm to monitor the northward migration of hummingbirds and www.learner.org/jnorth/oriole for an oriole migration map.
Nectar...the Recipe for Perfectly Fun Feeding
Hummingbirds
These tiny birds use so much energy flying that they can eat double their weight in nectar and insects each day.
Despite popular belief, hummingbirds do not suck up nectar with their bills. They actually lap it up with their tongues. While dipping their grooved tongues into nectar sources at up to 12 times a second, the nectar is drawn up and into their mouth each and every time.
You can help them keep their energy level up and attract them to your yard by offering them a nectar solution. Mix four parts water and one part ordinary table sugar to create the perfect nectar solution. Example: (4 cups of water, 1 cup of sugar)
Change the nectar and wash your feeder in hot water every three to four days (more often in hot weather). If you have a WBU Hummingbird Feeder, simply place it in the top drawer of your dishwasher for easy cleaning.
If you plan to store nectar in the refrigerator, boil the water first before creating and storing your nectar solution.
Never add red food coloring, honey or artificial sweeteners to the solution.
These birds are quite bold, too, so place your feeder close to the house so you can catch all the action!
Orioles
Orioles are known to enjoy orange slices, grape jelly and mealworms offered from tray-style feeders. They will even use the protein-rich mealworms to feed their nestlings. Nectar feeders are also attractive to orioles, supplementing the natural nectar they typically find in flowers. Boil two cups of water; add 1/3 cup of sugar; cool and fill the feeder. Be patient and keep the foods fresh, replacing them every few days and be sure to keep your feeders clean, too.
How to Attract Bluebirds

Habitat

There are three species of bluebirds found in North America, including Eastern, Western and Mountain Bluebirds. They prefer open spaces with few trees like suburban lawns, golf courses and parks. Bluebirds use nest boxes, and they can be attracted to feeders.

Recommended Housing

To entice bluebirds to nest in your yard, we recommend using the Wild Birds Unlimited Bluebird House. Officially approved by the North American Bluebird Society, this house provides protection from weather and extreme temperatures and features the proper dimensions and other amenities bluebirds desire. In addition, the roof opens for viewing eggs and babies, and the side opens for easy cleaning. Available in durable wood or recycled plastic.

Using the Wild Birds Unlimited Advanced Pole System®, place the house at a safe, desired height of about five feet. This height is optimum for bluebirds, and it allows you to easily monitor their progress.

Use the Wild Birds Unlimited Raccoon Baffle to prevent squirrels, raccoons, snakes or other predators from getting to the nest.

Recommended Foods

To attract the most bluebirds to your feeders, we recommend offering mealworms, Jim's Birdacious® Bark Butter® and Bark Butter Bits. We carry a variety of feeders that you can use to offer these foods to your birds.

Mealworms are ideal for providing the necessary protein and nutrients to adult bluebirds and their babies.

Jim's Birdacious Bark Butter is the perfect blend of protein and fat, and it will keep them going regardless of the weather.

Bark Butter Bits contain calcium and may support healthier bones and eggs for mother birds and their babies.

Mealworms
Birds Love Them

Jim's Birdacious Bark Butter
A WBU Exclusive

Jim's Birdacious Bark Butter Bits
A WBU Exclusive
A Dream of a Weaver

Many of us dream of having an oriole take up residence in our yard or neighborhood. To behold a brilliant-colored male, serenading us with its uplifting whistle, is truly a cause for celebration!
Out of nine possible U.S. species, the Bullock's and Baltimore are the most common. These orioles construct one of the most amazing and complicated nests of any North American bird. Looking like a small gourd-shaped pouch hanging from the tip of a thin branch, these nests are skillfully woven out of hundreds of single fibers … one at a time.
The female oriole is the primary engineer and fabricator, but males occasionally plays the role of foreman, supplying materials and conducting inspections while the nest is under construction.
While nests are typically woven out of plant fibers such as strips of milkweed stem, man-made items, such as string and yarn, are readily used in their place. Horses also provide nesting materials in the form of hair from their tail and mane. In fact, many oriole nests collected in the early 20th century, when horses were a major means of transportation, were exclusively made of horsehair.
If your dream is to have one of these brilliant and artistic birds as a resident in your yard, our Certified Bird Feeding Specialists can show you the oriole nectar, mealworm and fruit feeders that might just make your dream become reality.
Fun Facts About Orioles
Orioles are insect and fruit eaters. They usually stay hidden in the trees eating and singing their beautiful whistling notes. They can be drawn down from their perches with foods like orange slices, grape jelly, mealworms and nectar feeders.
When not feeding on nectar, orioles seek out caterpillars, fruits, insects, and spiders.
Unlike many insect eating birds, Baltimore Orioles will eat spiny or hairy caterpillars, including such pest species as fall webworms, tent caterpillars, and gypsy moths.
Most male Baltimore Oriole songs vary enough from one another as to be unique to each individual. It is believed females can identify and locate their mate by its distinct song.
The Oriole nest is an engineering masterpiece. They weave a hanging-basket nest with plant fibers, grasses, vine and tree bark and sometimes string or yarn placed out on the small twigs of a branch 6-45 feet in the air. This keeps them safe from most predators.
It takes as many as 12 days for an Oriole to weave its nest. One Baltimore Oriole was observed spending 40 hours building a nest with about 10,000 stitches and the tying of thousands of knots, all with its beak.
The female Baltimore Oriole builds her nest with little or no help from its mate. Only the female incubates and broods, both feed the young.
While modern day Oriole nests are made primarily of plant fibers, Oriole nests collected in the late 1800s, before the age of the automobile, were made almost exclusively of horsehair.
Orioles will lay 4-5 eggs anywhere from April to June. The young will fledge as late as 30 days from egg laying.
Orioles are found across North America in the summer. Some species winter in the tropics and others in Mexico.
Most Baltimore Orioles spend their winters in southern Mexico, Central America and the tropics, but some will stay in the southern states of the U.S., with a few reports as far north as New England.
The Baltimore Oriole is a common inhabitant of suburban landscapes due to is preference for open settings that are bordered with mature trees.
Oriole's are a member of Icteridae family, meaning that their closest bird relatives include meadowlarks, blackbirds, bobolinks and grackles.
The oriole gets its name from the Latin aureolus, which means golden.
The oldest banded Baltimore Oriole recaptured in the wild had lived 11 years and 7 months.
Why is a bird attacking my window?
Birds like cardinals, robins and mockingbirds will dash repeatedly at their reflections in windows. Such actions are usually because the individual bird, usually a male, mistakenly perceives another bird in the reflection. It is territorial behavior for the bird to fight off the intruder. This behavior, if continued over a period of weeks or even an entire season, can be annoying to people, but is usually not fatal to the bird.
There are two ways to help prevent this behavior...one is to eliminate the reflective qualities of the glass window so it does not act as a mirror, the other is to create a physical barrier between the bird and the window.
A light colored or white material placed against the inside of the glass may help to reduce the reflection enough to stop the attacks. This can be newspaper, a sheet, a white window cleaner or other material. Interior vertical blinds (that are light in color) with the slats half open or closed may help. A dark room or dark drapes will actually increase the reflection and encourage more attacks. You may also apply things to outside of the glass like an opaque window decal, plastic sheet like a grocery bag or soap the window.
If all else fails, you may need to cover the outside of the window with a thin netting to prevent the bird from actually reaching the window. One of the advantages of the netting is that it allows you to still see out the window.