20% OFF All Bird Baths
July 17th - 31st Only!
Water is very important to birds. Whether they are feeder visitors or not, birds need water. Offering a dependable source of water is probably the simplest and most important step you can take to greatly increase the variety of birds in your yard.
It can also significantly increase your enjoyment of your birds by allowing you to watch their often comical antics as they drink, bathe and preen.
However, as entertaining as it is for us, water (or the lack thereof) can be deadly serious for birds. Birds must be ready to fly at all times, and bathing is a critical part of feather maintenance and staying in top-flight condition.
Water is also vitally important when it's extremely hot and a bird's ability to regulate its body temperature can become stressed. Birds do not sweat and must remove excess body heat through their respiratory system. So when temperatures rise, a bird's respiration rate increases, sometimes to the point that it can be seen panting like a dog. This activity dehydrates birds and increases their need for a reliable source of water to replace lost fluids.
So, while the addition of a bird bath, fountain or mister to your yard can supply hours of enjoyable bird watching entertainment for you, it may also be providing a lifesaving necessity for your birds.
How to Attract Birds with Water
Raccoon Family in the Nest Box
A mama raccoon found her way into our Owl Box recently and is taking care of her three babies. We're monitoring the site to determine how she was able to get around the baffles and reach the box so we can make sure the owl family is safe next spring. In the meantime, enjoy watching the raccoon family!
Click on the video below to watch. Click on the upper right corner of the video to share with your friends.
How to Attract More Birds with Seed Cylinders
I have a bald bird at my feeders - is something wrong?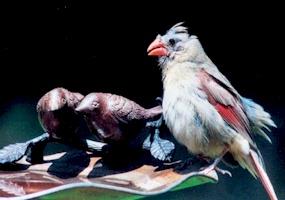 "Bald-headed birds" are often seen in late summer. Usually it is Blue Jays, Northern Cardinals or Common Grackles with a complete lack of feathers on their heads. While the rest of the bird's body looks normal, a completely bald bird certainly raises curiosity.
The most likely explanation for the baldness is an abnormal replacement of all the head feathers (molting) at the same time. Others may include environmental or nutritional factors, feather mites or lice.
There is also some anecdotal evidence that, in some cases, a simultaneous molt of all the head feathers may just be a normal occurrence for a very small percentage of individual birds.
Whatever the cause, bird banding studies show most birds recover from their period of baldness within a few weeks, and that birds recaptured in succeeding years often show no re-occurrence of this unusual molting behavior.