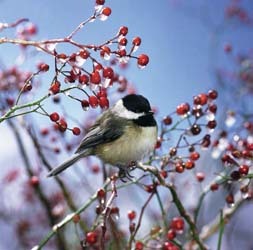 While birds are equipped to withstand most winter weather, they obviously can't turn up the thermostat, throw on an extra blanket or whip up a warm cup of cocoa. However, there are a number of ways you can help make survival easier by providing food, a heated, open source of water and protection from the elements.
The Importance of
Keeping Your Feeders Full
Food is the most essential element, providing birds with the energy, stamina and nutrition they need. To stay warm, birds will expend energy very quickly, some losing up to 10% of their body weight on extremely cold nights, and this fat must be replaced every day.
Normally, birds that come to feeders obtain only about 20% of their daily calories from food offered in feeders; the rest come from natural food sources. In contrast, during periods of cold weather, your birds may use your feeders to load up on calories as a means of survival.
The Importance of a Reliable, Open Source of Water
Birds continue to need a source of water for drinking to maintain their metabolism during dry, cold weather. Clean feathers help birds stay warm, and a bird bath is often the only way for some birds to drink and keep their feathers in top condition when it's cold.
Most birds adjust their feathers to create air pockets, which help them keep warm. The soft, fluffy down feathers are puffed up with air to create a warm blanket around the bird. The body feathers lie on top of each other, overlapping like shingles on a roof. Small interlocking barbules, or "hairs," zip their feathers together to create an airtight windbreaker. Also, most birds preen their feathers with the oil produced by a gland on their backs near their tails to create a waterpoof rain coat. Research has shown that a chickadee with well-maintained feathers can create a 70° (F) layer of insulation between the outside air and its skin.
Protection from the Elements
Birds need a place to escape the elements. Installing roosting and nesting boxes in your backyard can give birds a warm, dry place to stay overnight. Shelter is also necessary for protection against natural predators, such as birds of prey and cats.
Saving the World One Bird at a Time
Your backyard bird feeders can make a difference!
Especially this month.
Typically, your feeders serve as a supplemental source of food for birds in your yard. In contrast, during periods of cold and severe winter weather, your birds may switch to utilizing them as the critical source of food that enables them to survive from day to day.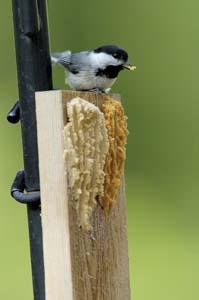 A 3-year study in Wisconsin concluded that when temperatures fall below 10 degrees, Black-capped Chickadees without access to feeders have only a 37% survival rate as opposed to the much higher 69% survival rate for those able to utilize feeders.
If chickadees are representative of our other feeder birds, then your feeders can make a big difference in the number of birds that survive the winter.
Also, birds may burn up to 10% of their body weight in stored fat each night to stay warm…and this fat must be replaced every day.
Be sure to keep your feeders filled with the high-energy, high-fat foods that provide your birds with the crucial nutrition they need to survive.
High on the list of best choices to meet this nutritional need is Jim's Birdacious® Bark Butter®. This peanut butter-based treat is loaded with fat and protein and is known to attract more than 120 species of birds.
Stop by the store soon, and check out the wide selection of energy-packed foods that will help make a true difference this winter…one bird at a time.

Looking for the Out-of-Towners
You may have spotted a few feathered out-of-towners that are sticking around for winter.
Winter is a great time to look for uncommon bird species. Juncos and other sparrows and finches may be making a repeat appearance in your yard this winter as many of them come back to the same exact location each year.
Keep your feeders full and look for birds associated with "irruptions." When natural winter food supplies are scarce in northern
Canada, numerous bird species "irrupt," migrating south in search of food.
The most common irruptive birds are Pine Siskins, Purple Finches, Common Redpolls and Evening and Pine Grosbeaks.
By offering the right food (in the right place), you can better your chances of attracting some of these birds.
Juncos
Lovers of millet, you can attract Juncos to your yard by offering WBU Deluxe Blend in a ground feeder or hopper feeder. They're
persistent foragers and have been known to burrow through snow in search of seeds.
Pine Siskins, Purple Finches & Common Redpolls
These "winter finches" are attracted to Finch Feeders filled with Nyjer® (thistle). You can also attract them to your Seed Tube Feeders by offering Supreme Blend.
Grosbeaks
If they're visiting your yard, be ready - they are hungry birds. For best results, offer Supreme Blend in a Hopper Feeder. Before
the 1850s, Evening Grosbeaks were not commonly found east of the Rocky Mountains. Now, winter irruptions can occur across the country.
As you can see, our feathered guests' tastes and preferences vary, so it's important to be prepared. Because before
you know it, these out-of-towners will be just that - headed out of town.
Visit us this month, and we'll make sure you have everything you need to keep your resident birds happy and to attract these winter migrants.
True Blue and Warm, Too!
It's really hard to think of wild birds as being loyal friends.

After all, they are truly one of the freest creatures on the planet, able to fly anywhere at anytime with nothing to bind them to any single location.

But birds, like humans, are creatures of habit and bird banding studies have shown that many of our winter birds, such as Juncos and native sparrows, utilize the same wintering location year after year.

With a potential lifespan of over 10 years, it is likely that the Junco gleaning millet off of the ground below one of your feeders has spent many previous winters as your loyal backyard guest. And recent research shows that is only half the story!

These birds are not only loyal to a specific location, but also to a single feeder! The study showed that the only time they abandoned their favorite feeder was during periods of cold weather when the feeder was placed in a location too exposed to the wind.

So help your birds stay loyal and warm by locating your feeders in a sheltered location out of the wind. The east or southeast side of a house or near a row of trees or evergreens is ideal.

Once you have them in a safe and sheltered location, be sure to keep your feeders filled with the high-energy, high-fat foods that provide your birds with the crucial nutrition they need to survive the coldest month of the year.

Take a look inside for more of our expert advice and quality products that will help your birds to stay true blue and warm, too this winter.
Winter Water Sources Make Happy Birds!
While preparing for Winter make sure your bird bath heater is in the bath and working. If you don't have a heater, what are you waiting for? Providing water in the winter is a great way to attract birds that don't normally visit feeders, such as Bluebirds and Robins!
You can add a heater to an existing bird bath if the bath is made from a material safe to leave out in the Winter. Metal, plastic, granite and some concrete baths are safe to leave out. We don't recommend using ceramic or glass baths during Winter months as even with a heater they may crack or break.
We also have bird baths available with a built-in heater. The advantage of these are that there is not a heater blocking part of the bath and birds are more likely to get in and actually bathe, rather than just getting a drink. It is safe, and necessary, for birds to bathe in the Winter. They will not freeze and it helps clean their feathers to assist with preening and flight.
To Order, Call: 614-766-2103


Can't Make It to the Store?
We Can Deliver to Your Home!
Buy as much bird food (and other products) as you like and have it delivered right to your front door. Our delivery fee is just $15.00* for up to 60 lbs. per box shipped within Zone 2 (approximately 150 miles). Daily Savings Club® members still save 15% on bird food every day.**


*Some oversized items may cost extra. **DSC Bird Buck coupons are redeemable on in-store purchases only.
How it Works
Click here to download the Order Form. Complete it and tally your items to identify the total pounds you're ordering.

Call us at 614-766-2103 for pricing and to place your order. We'll take your credit card information over the phone and let you know your total (including shipping) before completing the transaction.

Your order will be shipped via FedEx directly to your home.